Okay, I suck at backgrounds. I really do. Anyone have any tips? Or care to explain how you learned?
Admin




Posts

: 35


Join date

: 2008-10-03


Age

: 28


Location

: San Francisco



Ah yes. Backgrounds. I can tutor you a bit, I suppose. Here are a few things I learned in art.
First off, before you draw anything, determine your
horizon line.
Basically a line going across the page, where you place your
vanishing points
.
Now, before drawing your horizon, you have to determine whether you want it to be an aerial view, normal view, or closer to the ground.
If the view is closer to the ground then the horizon would be near the top of the canvas.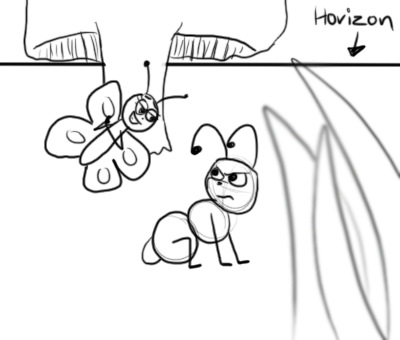 But for an aerial view, we'd probably bring it more towards the bottom.
Vanishing point and how it relates to the objects we draw in our backgrounds
I'm sure you know what a vanishing point is, so I'm not going to baby you about that. But one question many beginner artists ask is,
where do I put my vanishing point?
Think about where the "camera" would be in relation to the picture? Say, for instance, the most common camera view is the center. Exact center.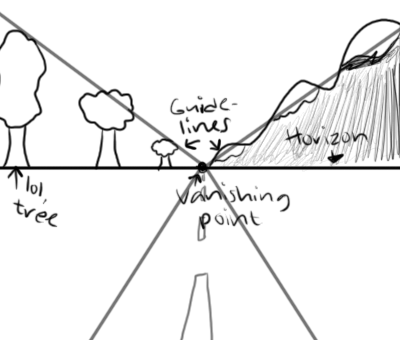 So the vanishing point would be in the center, right? Right! BUT that isn't the only way we could do it.
How about left, to show that the cameraman isn't perfect when he shoots.
Or you could flip it and do it a little to the right. Remember
You can have as many vanishing points as you like, just as long as they correspond with the dimensions of the image.
Even though you draw 2D, you're still giving your objects depth and volume.
Now, about objects, you mean? Well, I'd start out etching out a picture of a real background. Say, for instance, you want to draw a snowy terrain. Look up on Google a picture of Alaska, then try and sketch out the outline of the objects.
Well I hope this tutorial has helped. You probably already know this stuff, but it's always good to review. Any more questions you have?
Admin




Posts

: 45


Join date

: 2008-09-26


Age

: 25


Location

: Texas



I know how to do horizons and vanishing points and stuff... but for some reason I have trouble with actually designing the backgrounds. But yeah, I think I'll find a couple pictures to practice with. Thanks!
Admin




Posts

: 35


Join date

: 2008-10-03


Age

: 28


Location

: San Francisco



Ohh. I see. Well in that case, I dunno. XD

But yeah, reference pictures are your best friend.
Admin




Posts

: 45


Join date

: 2008-09-26


Age

: 25


Location

: Texas



I totally understand. Tips that I can give are from experience so I hope it helps you.
Think about what you are drawing and the different scenes you might find or might want to find your subject in. Below is a piece I recently did and if you like it you can try the technique.
I thought about what type of scene I might find my Octopus alien in so I researched and found that octopus spend a lot of time around reefs. I googled reefs and found a really cool image (below). I added a lot of color to the background previous to adding the coral reef. when I imported it I changed the color to look more otherworldly then used a linear dodge (or linear light I cannot remember) and blended it on the colorful background and added some light and a few streaks of color in the reef and voila.



Posts

: 4


Join date

: 2008-12-12


Age

: 35


Location

: Dallas TX





Similar topics
---
Permissions in this forum:
You
cannot
reply to topics in this forum